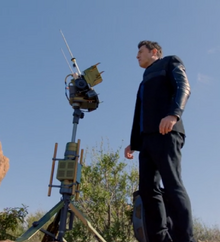 A distress beacon is a portable, semi-automated device used to alert other ships, stations, or shuttlecraft of an emergency and to indicate the relative position of the sender. In the early 25th century, distress beacons are used by at least the Krill[1] and Planetary Union[2] but possibly by other civilizations as well.
Planetary Union distress beacon
Edit
Krill distress beacon
Edit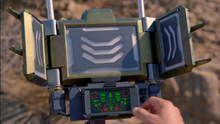 A distress beacon is found in every escape pod and are transportable by backpack. The device is mounted upon a tripod. It has two antenna and a user interface. While the function of the buttons of the panel are largely unknown, the lower right black button sends the distress signal.[1]
Distress beacons emit a distress signal "on a Krill frequency."[3]
Appearances
Edit
References
Edit
Community content is available under
CC-BY-SA
unless otherwise noted.