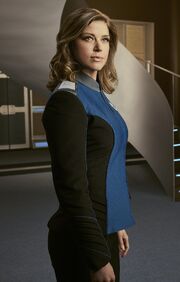 First Officer was a commissioned officer position stationed aboard space-faring vessels in the Planetary Union and the Krill.[n 1]
Within the Planetary Union, First Officer was part of the Command section. The position was synonymous with the rank of Commander. As second-in-command of a ship, First Officer was above the Second Officer and below only the Captain or Admiral. An officer was eligible for promotion to First Officer after attaining the rank of Lieutenant Commander[1] and passing the Shipmaster Qualification Program.[2] The First Officer worked on the Bridge in the Commander's chair and in the First Officer's Office.
Among the Krill, First Officer ranked above Second Officer and below Captain.[3]
The equivalent position among the Kaylon was Secondary.
An unidentified First Officer served aboard the Orville in an alternate timeline where Ed and Kelly were never part of the crew. The person was killed during the Battle of Earth.[4]
Community content is available under
CC-BY-SA
unless otherwise noted.