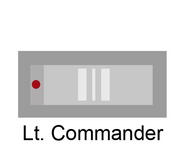 Lieutenant Commander was a commissioned officer rank in the Planetary Union. It was the senior-most rank before command ranks such as Captain and Commander, falling between Commander and Lieutenant.
Lieutenant Commanders frequently served as heads of departments, such as Chief Medical Officer, or as the second officer of a vessel. Many Lieutenant Commanders were responsible for the functioning of a department such as Engineering, Security, or Medical.
Community content is available under
CC-BY-SA
unless otherwise noted.