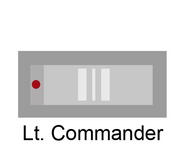 Lieutenant Commanders (Lt. Commander) serve in the positions of chiefs of departments or as Second Officer of a vessel. Lieutenant Commander ranks below Commander and above Lieutenant.
Lieutenant Commander may serve in positions such as section chiefs, responsible for the functioning of a department such as Engineering, Security, or Medical. A Lieutenant Commander may also serve as a commander of the bridge in the position of Second Officer to the Captain and First Officer.
Strictly speaking, most if not all Union officers of a higher rank seen would have been Lieutenant Commanders. The following are those who are definitively seen as such.
Community content is available under
CC-BY-SA
unless otherwise noted.