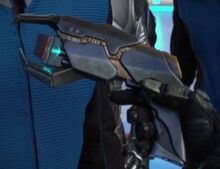 The Plasma Pistol (The World of the Orville: Krill hand weapon) is a one-handed energy gun used by Krill soldiers. The weapon fires packets of concentrated plasma. Together with the Plasma Rifle, it is one of the two standard-issue energy weapons used by the Krill.
Description
Edit
Schematics are published in The World of the Orville. The middle of the gun converts matter into plasma and is ejected through the Plasma Emitter Barrel. The end prongs have been called both Plasma Focus Arrays[1] and Focus Array Arms,[2] and are designed to direct the energy blast[1] and to intimidate.[2] The top of the gun also holds a Plasma Residue Exhaust and heat ports.[1]
Production
Edit
The Plasma Pistol was designed by property master Bryan Rodgers shortly after finishing the Planetary Union's pistol, the PM-44,[3] which makes the Plasma Pistol the third-earliest gun developed after the PM-44 and the PM-32. The guns come equipped with working triggers and blaster lights.[4]
While discussing the Plasma Pistol, Rodgers stated: "I always try to follow the rule of having all the prop creations, especially the weapons, feel as though they truly belong to that race."[5]
The pistol also served as the starting concept for the Plasma Rifle.[3]
Appearances
Edit
References
Edit
Community content is available under
CC-BY-SA
unless otherwise noted.