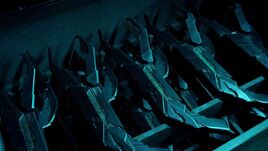 The Plasma Rifle (or Krill assault weapon) is a two-handed energy gun used by Krill soldiers. The weapon fires packets of concentrated plasma and comes equipped with a bayonet for close-quarters combat.
Description
Edit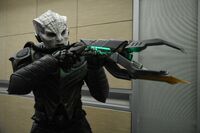 Schematics are published in the book The World of the Orville. The rifle's handle houses the Matter Power Pack which serves as the material to be converted into plasma. The roof of the handle has a Power Level Indicator. Power levels are indicated not by number but by colors: blue, purple, and red.
Sides of the rifles hold heat sinks and a refractor. Much of the middle of the gun is the Matter Converter, which takes the material from the Power Pack and changes it into plasma. The rifle center houses the Plasma Emitter Barrel; three prong-like wings are Focus Array Arms to direct the blast of plasma. Each arm contains a heat port as well.
A Krill raiding party strikes the Epsilon Science Station on Epsilon 2 armed with plasma rifles.[1]
When a Krill destroyer is attacked and boarded by the Chak'tal, the Krill warriors use plasma rifles to engage the invaders in a battle they appear to lose.[2]
Production
Edit
The rifle was designed by property master Bryan Rodgers. After creating the Planetary Union's PM-44, Rodgers started creating a Krill "pistol," which was eventually elongated and turned into the Plasma Rifle. Rodgers installed large tappers in the triggers of the rifles to make the sensation of pulling its trigger dramatic. The rifle took roughly six weeks to make from drafting designs to completed construction.[3]
Rodgers recalls:
This was a complicated weapon to execute.  It took about seventy hours of printing the various components. The internals consist of not only LED's for the length the the body and the plasma focus arrays but a powered tap piston synched to the barrel flash to indicated firing.[4]
Appearances
Edit
References
Edit
Community content is available under
CC-BY-SA
unless otherwise noted.