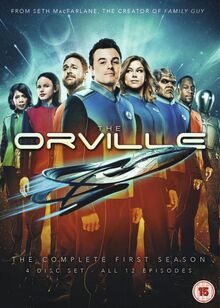 The Orville: Season 1 is the official DVD release of episodes of The Orville's first season and special features. It was released on October 8, 2018 in the United Kingdom, and on December 11 in the United States.
While 20th Century Fox accepted pre-orders of The Orville as early as September 27, 2017,[1] a DVD release of Season 1 was not officially announced until twelve months later.[2]
The release is followed by the The Orville: Season 2.
Release
[
]
For the first year of the show, a DVD release of Season 1 was only speculative. Fox had affirmed a future release since September 2017 through Amazon, but declined to provide further details nearly a year. In August, publication companies tentatively stated that a release was slated for October 10, 2018, but this was delayed.[1]
Finally, on September 22, Fox officially revealed that the first season would be released on DVD on October 8 in the United Kingdom and December 11 in the United States in time for the holiday season.[2]
Content
[
]
The Season 1 DVD set has four discs containing all twelve episodes of the season. The discs includes old promotional videos created by Fox and released on YouTube before Season 1 concluded.
The Orville at PaleyFest 2018
Inside Look
Directed By
The First Six Missions
Designing the Future
The Orville Takes Flight
The Science of The Orville: Quantum Drive
The Science of The Orville: Alien Life
Crafting Aliens
See also
[
]
References
[
]