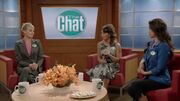 Government by American Idol.— Gordon Malloy, on how shows like the The Chat decide the future of Sargus 4[1]
The Chat
 is a live television show on 
Sargus 4
, hosted by
Hoshel
,
Carris
, and
Semmla
. The show is similar to talk shows on 20th century 
Earth
: a panel of hosts interview subjects with informal conversation. Unlike Earth, however, the show hosts 
apology tour
 subjects.
In the winter of 2420, the trio interview Lieutenant John LaMarr who is on an apology tour of his own. The hosts introduce LaMarr by reading a series of negative Master Feed comments toward LaMarr; when he enters the stage, Carris quickly downvotes him. "Good girl," affirms Semmla.
LaMarr apologizes for his crime, simulating a suggestive dance on a statue of Mella Giffendon, but the hosts dismiss his apology as insincere. He claims to have donated to the "Mella Giffendon Foundation for Jacked-up Kids," which the hosts correct as the Mella Giffendon Foundation for Disadvantaged Children. Hoshel demands to know exactly how much money he donated but LaMarr is unable to answer, being unfamiliar with their currency. Finally, LaMarr is quizzed about the person of Giffendon, whose statue LaMarr denegrated, but he cannot answer.
Carris is disgusted by LaMarr and hastily concludes the interview portion of the show, designating the remainder of the segment to voting.
Appearances
Edit
Cite error: <ref> tags exist, but no <references/> tag was found